Mahalo Rainbow Soprano Ukulele £29.99
Mahalo Rainbow Series ukuleles feature geared machine heads to keep you in tune longer and Graph Tech NuBone XB bridge saddles to increase projection and bass response. Aquila Super Nylgut strings are fitted to produce a fuller, louder and more balanced sound. Complete with carry bag, the Mahalo Rainbow Series represents outstanding value for money. Body:Sengon, Neck:Jabon, Fingerboard: Mahogany. Avalible in various colours.
Mahalo U Smile Soprano Ukulele £37.00
Mahalo U-Smile series is everyone's favourite. These ukes stand out in a crowd, making them a fun conversation starter. The smiley face will have your friends laughing and playing along. Body:Sengon. Neck: Jabon Fingerboard: Mahogany. Comes with a Carry bag.
Mahalo Skull Soprano Ukulele £45.00
From the Mahalo Creative series a skull shaped Ukuele with a coffin shaped headstock. The body is Sengon, neck: Jabon and Maghoany fingerboard, with a crackle finish to add to this spectre of a ukulele. Comes with a carry bag. Avalible in Black or white.
Makala Dolphin Soprano Ukulele £49.99
The Makala Dolphin line is an excellent first ukulele to dive in to the world of ukulele playing. With a classic look that sounds great. An exceptional value to get anyone playing. Top: Philippine Mahogany. Back and Sides: Composite. Fingerboard: Mahogany.

Taiga T-10 Soprano Ukulele £69.99
An excellent beginners ukulele for anyone looking for something above the basic entry level.Featuring a spruce top, back and sides with high gloss lacquer and includes deluxe padded gig bag.
Kala Kiwi Soprano Ukulele £89.99
Express yourself in more ways than one with the all-new, completely redone and more affordable Kala Novelty Ukulele Series. Bright & colorful in what is called the pineapple size. With eye-catching character and an abundance of personality from top to bottom, these ukuleles offer the lasting quality you have come to expect from Kala Instruments. Underneath these designs is a trusty mahogany build, making the Novelty Series just as fun to play as they are to display.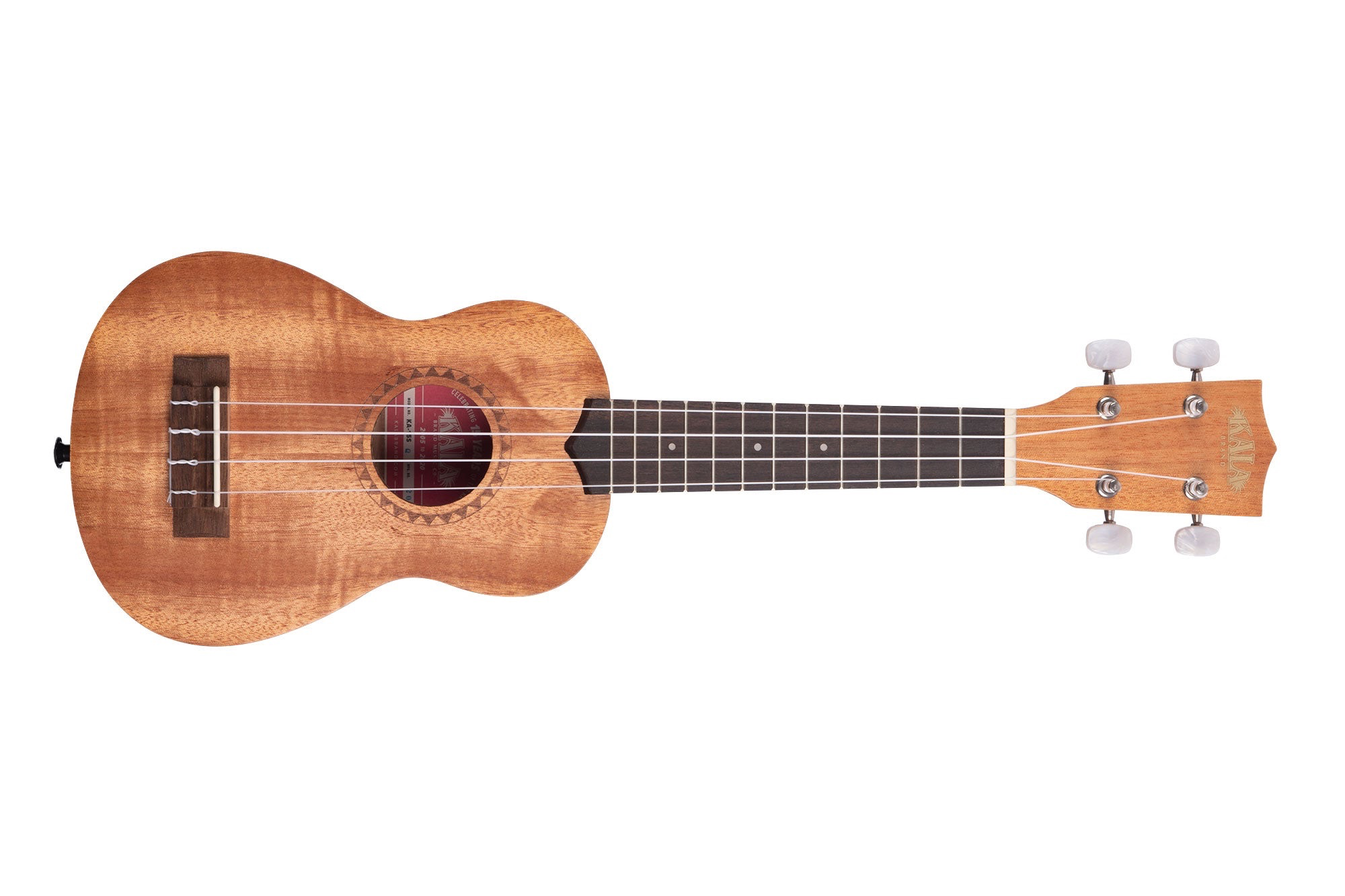 Kala KA 15-S Soprano Ukulele Package £99.99
Considered the best entry-level ukulele on the market, the KA-15S. This ukulele is an entry level staple for new players and a great addition for seasoned players looking to add an affordable, high-quality, attractive soprano ukulele to their collection. Anyone looking to get their money's worth in an instrument should start with the KA-15S. Mahongany top, back and sides. Comes in a package, with a deluxe gig bag, tuner and strap.

Pukanala Pu-Sun-S Soprano Ukulele £129.99
The Native series has a distinctive appearance with its black gloss body and natural neck and headstock. It features a soundhole rosette motive inspired by traditional artwork which matches the colour of the binding on the body of the instrument. Solid spruce top,Solid mahogany back and sides. Rosewood fretboard. Good quality geared machine heads. Fitted with Aquila Nylgut strings.

Korala UKS-450-E Soprano Ukulele £179.99
An Electro- Acoustic Soprano Ukulele with a Fishman EQ pick up system. Solid Spruce top with Saple back and sides, finished with guitar style machine heads and ivory pinstripe binding.

Freshman FU 3S Electro Acoustic Soprano Ukulele
This ukulele is constructed with all koa, a beautiful Hawaiian wood which sounds better as it ages, with a long heritage in ukulele making. The soprano size and smooth rosewood fingerboard make for extremely comfortable playability. The ukulele is fitted with a Fishman Kula ukulele pre amp with on board tuner.