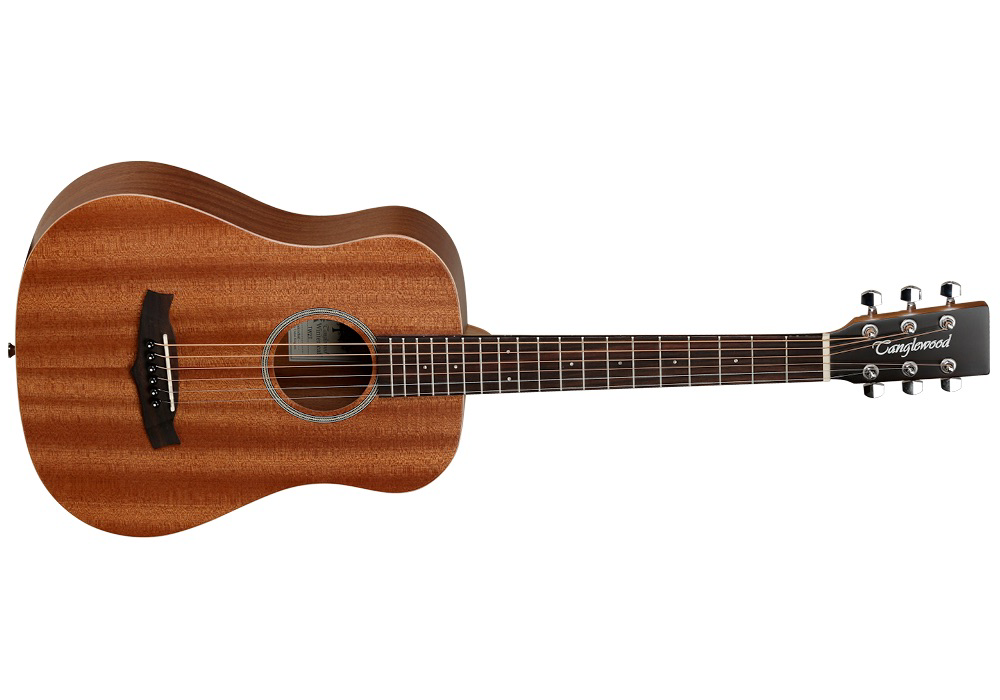 Tanglewood Winterleaf TWT Travel Guitar £169.00
Tanglewood began making Travel guitars 25 years ago withtheSundance series. Those years of development have led to the Winterleaf All Mahogany travel acoustics that represent outstanding value for every player. Genuine African Mahogany is used in strong laminations of the timber to construct each model to make them able to travel with you on your journey. The Mahogany produces a warm rich sound and the bracing helps with tonal resonance to give a pleasing sound, with Tanglewood's Techwood fingerbord and bridge finished in a satin stain. This travel sized guitar is sure to bring you joy anywhere.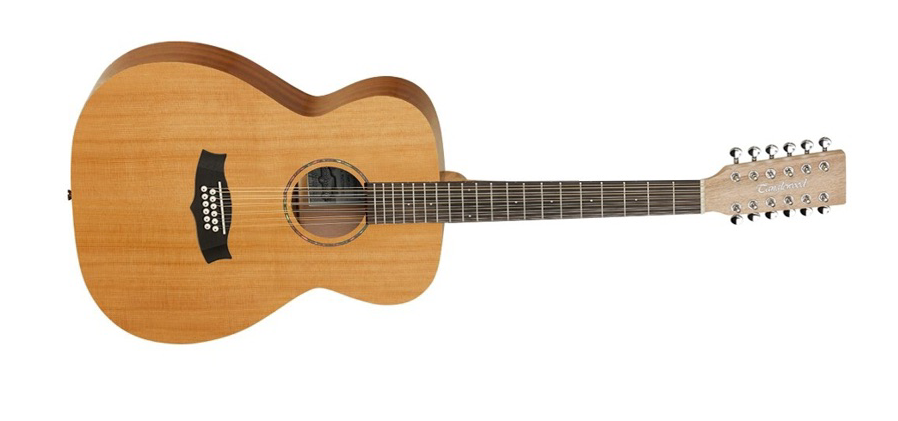 Tanglewood Winterleaf Exotic Folk 12 string £349.00
A 12 string folk shaped acoustic, with all of the Tanglewood quality you would expect. A Solid Cedar top and olive back and sides truly make this an exotic guitar both in sound and looks, with Tanglewood techwood fingerboard this guitar easy to play making the 12 string guitar much more accessible to both learners and the more experienced.
Tanglewood Discovery Folk £249.00
Tanglewood recognise that to introduce people to music an instrument must have a high build quality, to encourage and reward aspiring musicians. Enter the Discovery Exotic series, which feature 2mm fingerboard dots, black soft touch machine head buttons and understated sound hole rosettes. All these features are aimed at bringing the specification of a much more expensive instrument into the entry level market. This Folk Acoustic has Figured Hawaiian Rainwood back and sides with a spruce top, eboncore fingerboard and a waulnut bridge.
Tanglewood Roadster Folk £199.00
Inspired by nature and the raw beauty of classic timber, Roadster II instruments make a truly organic and understated natural statement. Canadian Spruce top with traditional Indonesian mahogany back and sides to produce a tonally rich instrument that sounds instantly wonderful tuned up right out of the box. The cosmetic appeal of this guitar evokes a sense of being close to nature there is no binding added to the body of these models. Roadster II Spruce tops are finished and sealed in high grade, low density satin lacquer

Woodstock WHW 4021 3/4 Folk Guitar £119.99
The woodstock 3/4 sized acoustic has a laminated spruce top, basswood construction, rosewood equivalent fingerboard, Ivory binding on body and neck, double action trussrod finished with crome diecast tuners and pinstripe rosette.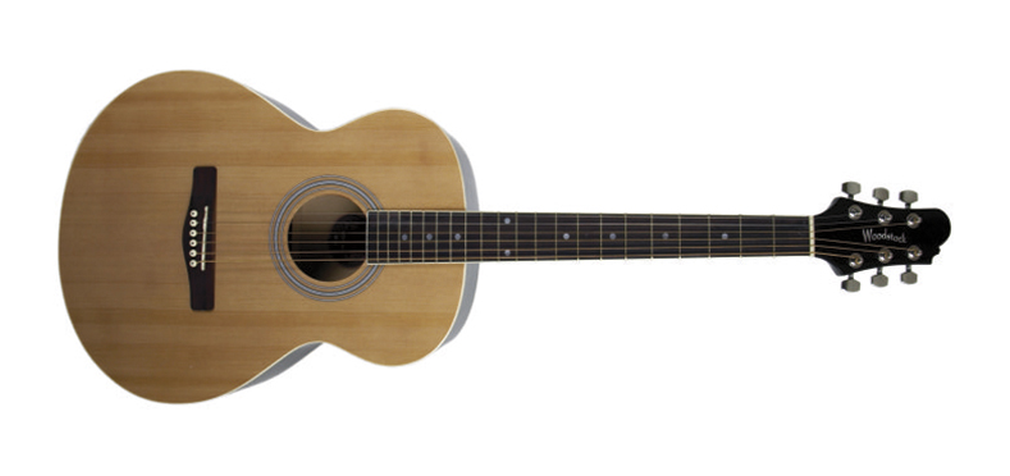 Woodstock Left handed Folk Guitar £104.00
The Left Handed Woodstock folk acoustic guitar has a Laminated Spruce top, basewood construction, rosewood equivalent fingerboard, Ivory binding on the body and neck, double action trussrod finished with crome diecast tuners and pinstripe rosette. an affordable quality starter guitar.

Recording King Dirty 30's Harmonella £225
Based on vintage instruments the Dirty 30's series embodies the sounds of the early blues players but with some modern twists, A solid spruce top and X bracing along with a modern trussrod and a vintage styled tail piece all add to the deep blues tone of this guitar.

Mayson Limited Rosewood Smart Concepts Guitar £479
Rosewood back and sides compliment a spruce top. Mayson's smart concept ensures that the neck and body are stronger than conventional joints alowing up to 80kg of string tension, Machine head ground plates have been embeded in to the headstock to prevent turning. Custom longditudinal bracing has been used to improve reverberation. Ensuring this guitar is built to maximise your playing capabilites.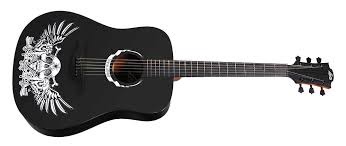 Lag Tramonate Wings of Hell £349
Lag Tramontane Wings of Hell, acoustic guitar, is a limited edition illustrated with a pattern combining skulls, wings and the eye of providence, finished in a high gloss. A solid canadian spuce top, Khaya Mahogany back and sides all add to this unique looking guitar helping it to stand out from the crowd.
Vintage Statesboro 'Whisky Sour' Parlor £99.00
Based on 1930's blues the Vintage Statesboro' Whisky Sour Series, designed by English guitarist and blues historian Paul Brett.These cool guitars, have that authentic blues sound, there's also a modern approach with playability amateur and professional players will appreciate.Looking authentically cool in a satin matt, Whisky Sour finish highlighting the natural grain pattern of the all-mahogany construction.
Aria TG1 Thin Body Cutaway £149.99
This thin Bodied acoustic, has a laminated spruce top but what makes it intresting is that the back and sides are made from tigerwood, giving this guitar an exotic feel. The Cutaway adding to the ease of playing the higher notes makes this guitar an excellent budget acoustic, avalible in light vintage sunburst, see-through blue and see-through red.

Aria Delta Player Parlor £189.00
Dedicated to the delta blues era, The Aria Delta Player range brings you genuine vintage feel at an affordable price. Uncompromised craftsmanship generates pure solid tone and outstanding playability. Spruce top with Sapele back and sides the new aria Muddy Brown finish completes the Vintage Vibe.
Aria AFN-15 Prodigy Series £99.99
As a guitarist at the beginning of your musical journey, picking the right starter instrument can make the difference between a few months of frustrated misery or a lifetime of musical enjoyment and participation. Aria's PRODIGY Series is a perfect choice for your new musical endeavor. Selected Spruce top with Meranti back & side, and ironwood fingerboard offers you an authentic tone and feeling. Avalible In Black and Natural.

Seagull Grand SG Parlor £349.00
This compact parlor guitar is made from Canadian Wild Cherry in a 3 layer laminate. The top back and sides are all crafted from this distinctive wood setting it apart from other parlor guitars. The cherry gives the guitar a bright tone, and you get a lot of sound from the small body. It has the small headstock that is a signature of Seagull guitars, it also has a burned stamped soundhole and has a semi-gloss finish to it. Perfect if you like something a little bit different and want to stand out from the crowd.